In a major step toward promoting preprint peer review as a means of increasing transparency and efficiency in scientific publishing, Review Commons is updating its policy: as of 1 June 2022, peer reviews and the authors' response will be posted by Review Commons to bioRxiv or medRxiv when authors transfer their refereed preprint to the first affiliate journal.
Preprints with public peer reviews (a.k.a. "preprint+" or "refereed preprints") provide a new publication route for scientists to rapidly communicate and access research that has been reviewed by experts. By posting a refereed preprint, researchers can demonstrate their peer reviewed research output at an early stage, before the final endorsement and publication by a journal. In addition, the peer reviews provide readers with a detailed and transparent assessment of the validity of the study and the strength of its conclusions. To accelerate the formal publication process, refereed preprints produced by Review Commons can be seamlessly transferred to 17 journals1 published by EMBO Press, eLife, ASCB, The Company of Biologists, Rockefeller University Press and PLOS without starting the entire process anew, thus avoiding redundant rounds of peer review.

At Review Commons, posting reviews publicly is always accompanied by the possibility for authors to simultaneously post a detailed response to the points raised by the reviewers. While the peer review process aims at involving independent experts ("peers") in providing a critical analysis ("review") of a work to verify its validity, correct mistakes and improve it, maintaining a balanced scientific discourse is essential for a productive outcome. Review Commons therefore considers the right of authors to reply to critiques raised by reviewers as an integral and fundamental part of the peer review process.
In a recent survey, Review Commons' authors were asked the question: "What is the earliest stage that would be acceptable to post the reviews?". The results (1,095 respondents) show that many authors feel it is acceptable to post the reviews as soon as the refereed preprint can be transferred to a journal (see figure, below). The data also reveals that the ability to formulate a response to the reviewers is a critical consideration. These results guided the new Review Commons policy that leaves sufficient time for authors to prepare a thoughtful response, which is then posted together with the review when the refereed preprint is transferred to an affiliate journal for consideration.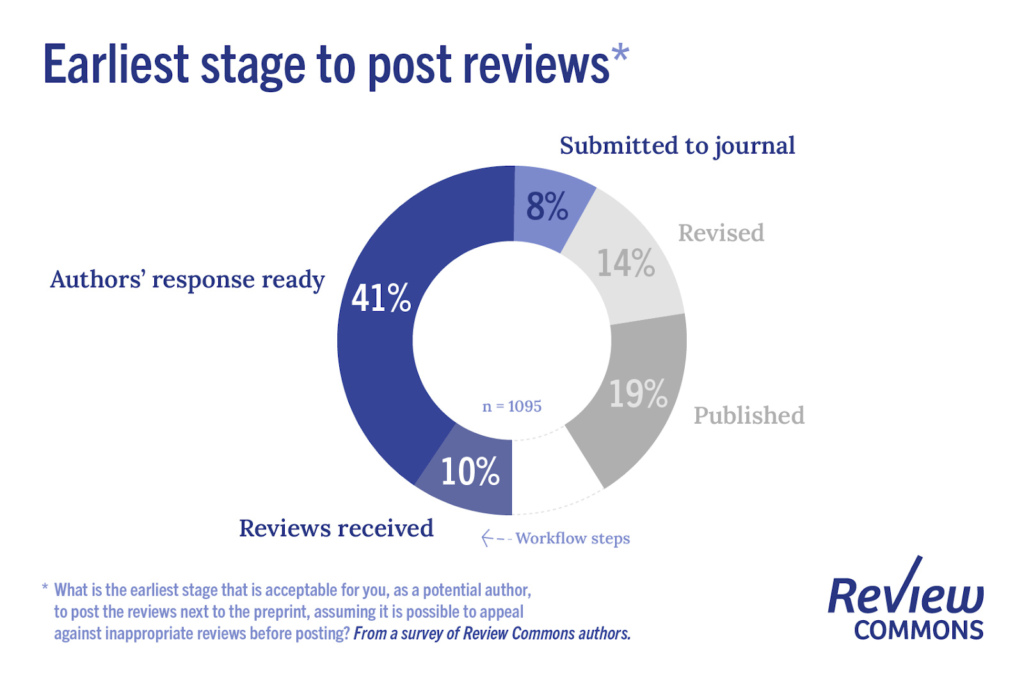 Refereed preprints make new peer reviewed research quickly accessible to readers. But they should also provide tangible benefits to the authors in terms of academic credit and recognition. To this end, EMBO is launching a pilot with its EMBO Postdoctoral Fellowship Programme by extending the eligibility criteria to formally include refereed preprints (announcement: Refereed preprints recognized as eligibility criterion for EMBO Postdoctoral Fellowships). Specifically, a first author preprint with public in-depth peer reviews obtained from trusted independent peer review platforms will be sufficient for eligibility to the programme. More details on the EMBO Postdoctoral Fellowship Programme's eligibility criteria and its preprints policy are available at https://www.embo.org/funding/fellowships-grants-and-career-support/postdoctoral-fellowships/
A legitimate concern about publicly posting reviews is that some reviews could include remarks formulated in a too dismissive or aggressive tone. Review Commons editors will screen reviews for inappropriate content before sending them to the authors and before public posting and request amendments from the reviewers when necessary. In addition, if authors strongly feel that serious issues remain with the reviews they receive, a formal procedure allows them to challenge a report in exceptional cases before making it public and transferring the manuscript to an affiliate journal (see more details at https://reviewcommons.org/authors). In cases of disagreement, it will also remain possible for authors to withdraw their manuscript from Review Commons without having to post the reviews.
It is still early days for preprint peer review, and we will carefully monitor the response to these important policy changes. Adjustments might be needed but it is already clear that we have entered an exciting phase where a new research object – the refereed preprint – opens new avenues in scientific communication and the practice of transparent peer review.
1. Affiliate journals: EMBO Journal, EMBO Reports, EMBO Molecular Medicine, Molecular System Biology, Life Science Alliance, eLife, Journal of Cell Biology, Molecular Biology of the Cell, PLOS genetics, PLOS biology, PLOS computational biology, PLOS pathogens, PLOS one, Journal of Cell Science, Development, Disease Models & Mechanisms, Biology Open.